Iconoclash beyond the image wars in science, religion and art
(XII) 2002
Iconoclash beyond the image wars in science, religion and art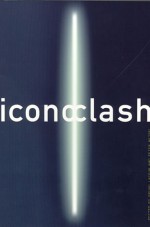 Date: 2002 [Edited by Bruno Latour and Peter Weibel]
Publisher: MIT Press, Cambridge, Mass.
Language: English
Description
This book, which accompanies a major exhibition at the Center for New Art and Media (ZKM) in Karlsruhe, Germany, invokes three disparate realms in which images have assumed the role of cultural weapons. Monotheistic religions, scientific theories, and contemporary arts have struggled with the contradictory urge to produce and also destroy images and emblems. Moving beyond the image wars, ICONOCLASH shows that image destruction has always coexisted with a cascade of image production, visible in traditional Christian images as well as in scientific laboratories and the various experiments of contemporary art, music, cinema, and architecture.
While iconoclasts have struggled against icon worshippers, another history of iconophily has always been at work. Investigating this alternative to the Western obsession with image worship and destruction allows useful comparisons with other cultures, in which images play a very different role. ICONOCLASH offers a variety of experiments on how to suspend the iconoclastic gesture and to renew the movement of images against any freeze-framing.
The book includes major works by Art & Language, Willi Baumeister, Christian Boltanski, Daniel Buren, Lucas Cranach, Max Dean, Marcel Duchamp, Albrecht Dürer, Lucio Fontana, Francisco Goya, Hans Haacke, Richard Hamilton, Young Hay, Arata Isozaki, Asger Jorn, Martin Kippenberger, Imi Knoebel, Komar & Melamid, Joseph Kosuth, Gordon Matta-Clark, Tracey Moffat, Nam June Paik, Sigmar Polke, Stephen Prina, Man Ray, Sophie Ristelhueber, Hiroshi Sugimoto, and many others.